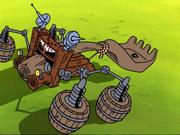 The K.I.D.(-)A.(-)P.U.L.T. or KID-A-PAULT was the first ever 2x4 technology vehicle to appear in season 1, along with the C.O.O.L.B.U.S. It is a large wooden quadrupedal vehicle featuring a catapult that appears to be made from a giant wooden ladle and fires kids. Its true acronym is unknown.
It was used in the pilot episode, No P in the Ool, where it was magically beamed down by a KND satellite and used against Mr. Wink and Mr. Fibb. Numbuh 2 was used as the projectile.  However afterward it was smashed by Mr. Wink and Mr. Fibb's Super Chair.
Trivia
A fan-made ancronym for the  K.I.D.A.P.U.L.T. is Kool Invention Defeats Alotta People Using Latest Technology.
Ad blocker interference detected!
Wikia is a free-to-use site that makes money from advertising. We have a modified experience for viewers using ad blockers

Wikia is not accessible if you've made further modifications. Remove the custom ad blocker rule(s) and the page will load as expected.