Numbuh 275 

Real Name

Jacob 

Sector

Voice Actor

Charile Skanker 

Status

Active 

Occupation

KND Scientist 

Cameo Appearances
Numbuh 275, real name Jacob, is a KND scientist who appeared in Operation: F.E.R.A.L.
Background
He was based on a boy named Jacob whose wish through the
Make-A-Wish Foundation
was to appear in an episode of
Codename: Kids Next Door
.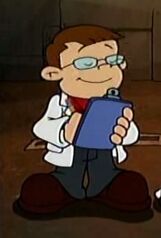 He nodded to something Numbuh 71.562 said in
Operation: F.E.R.A.L.
. He also had a few cameos in several other episodes. He is, to date, the most realistic-looking person in the show. He appeared alongside
Numbuh 41
in
Operation: G.I.R.L.F.R.I.E.N.D.
at the moonbase cafeteria. He is also seen in the final episode as one of the people wishing Nigel good luck.
Ad blocker interference detected!
Wikia is a free-to-use site that makes money from advertising. We have a modified experience for viewers using ad blockers

Wikia is not accessible if you've made further modifications. Remove the custom ad blocker rule(s) and the page will load as expected.