Numbuh 411 (Sector PR) 

Sector

Status

Active 

Occupation

KND P.R. Consultant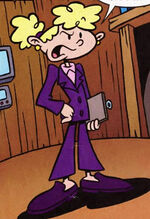 Numbuh 411 is a Kids Next Door Public Relations Consultant, belonging to Sector P.R. Her assistant is named Debbie.
She was sent by Numbuh 362 to Sector V in order to improve KND's approval ratings and to stop them from using Poocleear Weapons against the adults' giant robots. She forbade Sector V from using any weapons against the adults and wanted them to have a conversations instead. She proved so annyoing that Numbuh 5 shot her through the Intercontinental Clam Cannon into the Ice Cream Men's factory.