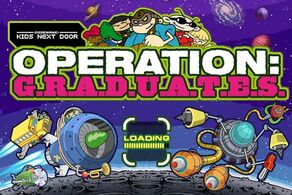 Operation G.R.A.D.U.A.T.E.S. is the game is based on the episode of the same name. This game is no longer on the United States Cartoon Network site, but can be found on the United Kingdom Cartoon Network site.
Introduction
Get the Code Module back from the Delightful Children, then race to the Moonbase.
Game stats
This is a team game.
KND Technology used: Bug Shredder, Freezer Burner, Helimuffler, Bus Stopper, and Aerobuster
Villain Techology used: RRIDM, explosives
Levels
1-1 up to 1-3: Not-so-high flight.
2-1 to 2-3: Air flight. Boss fight at the end of 2-3.
3-1: The Moon, up to the Moonbase. Asteroid war. Last explosives.
Instructions
Arrows: Move
Spacebar: Shoot Spacebar (hold): shoot repeteadly.
Enemies