Sector W
Talk

2
844pages on
this wiki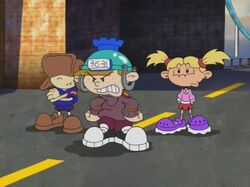 Sector W is the youngest KND Sector in the organization around the time Sector V was active.
Supreme Leader Numbuh 362 has noted that Sector W had the highest mission success rate in the entire KND in Operation: I.N.T.E.R.V.I.E.W.S., opting to pull Sector V off the Delightful Children's cake mission and send Sector W on the case instead.
In the same episode, they competed alongside other operatives and villians in the Scavenger Hunt for the cake, heading in the absolute lead until the fight for Father's pipe, which caused members of Sector W to mutiny against their leader for his reckless nature and relinquish all their findings to Sector V in gratitude for saving them. This allowed Sector V to win the hunt and for Numbuh 1 to gain entry to the GKND.
Members
Numbuh 363 "Harvey" the bratty, self absorbed, and extremely competitive leader of the group. He will do anything to win, even if it means putting him and his comrades in danger. Despite this, he seems to take being an operative very seriously, and puts his duties second only to himself. He has an aversion to being touched, and will go insane once he does.(leader shown in Operation: I.N.T.E.R.V.I.E.W.S. until he was decommissioned for bad behavior)
Location
Due to the fact that most sectors don't get involved in missions too far away from their base, that would mean that Sector W must be near Sector V. Sector V on this Wiki, you will find out that Sector V might be located in Cleveland, Ohio. So Sector W might be located in West Ohio or Washington.