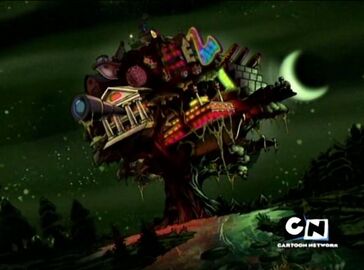 The
Sector X
Treehouse belongs to Sector X of the KND. It is situated in the center of a very creepy swamp, and apparently has not been well-looked after, as the Treehouse is very worn down. It is known that hot-air balloons float out on the roof allowing the operatives to escape from the
Nerd Zombies
, their frequent foes (thanks to
Numbuh 42
). It is located in Louisiana.
Residents:
Trivia
The swamp location and the jazz signal on the top might hint the treehouse is located somewhere in New Orleans.
Ad blocker interference detected!
Wikia is a free-to-use site that makes money from advertising. We have a modified experience for viewers using ad blockers

Wikia is not accessible if you've made further modifications. Remove the custom ad blocker rule(s) and the page will load as expected.