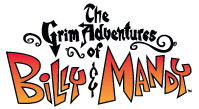 The Grim Adventures of Billy & Mandy (commonly referred to as Billy & Mandy) was an animated TV series created by Maxwell Atoms. The show first appeared on Cartoon Network in 2001 and it is a spin-off of the show Grim & Evil. The show was about two children named Billy and Mandy who got the Grim Reaper to be their best friend forever, by beating him in a game of limbo to compete for the life of Mr. Snuggles (Billy's hamster). The show ended on November 9, 2007 (however due to a unmade spin-off named Underfist which only had one episode made, causing it to be classed as an episode of The Grim Adventures of Billy & Mandy instead, because of this the show really ended on October 12, 2008). There were 71 episodes made before the show ended.
Characters
The Grim Reaper (also known as Grim) is an undead skeleton personification of Death. After having 'lost' to Billy and Mandy, in a contest over the soul of Mr. Snuggles, "Grim" is now forced to be the 'best friend' of Billy and Mandy forever and ever.
Billy is a dim-witted, happy-go-lucky boy living in Endsville. He is best friends with the Grim Reaper and Mandy, who treats him more like a servant than a friend, never being one to pass over the opportunity to influence the stupid. He was born with an extremely low IQ of -5, having been outperformed by a shovel and 2 candy bracelets on an IQ test. Good-natured and a bit dopey, Billy's curiosity tends to get him into trouble he can't get out of by himself. Billy enjoys the company of Mandy and Grim and would do just about anything for them.
Mandy is a girl from Endsville. She typically has a cynical and arrogant attitude and unlike Billy, she barely smiles, and is also visible in her mother's womb. When she smiles, it throws natural order, however, she is more stable, sane, and intelligent than her "idiotic" friend Billy.
Trivia
Ad blocker interference detected!
Wikia is a free-to-use site that makes money from advertising. We have a modified experience for viewers using ad blockers

Wikia is not accessible if you've made further modifications. Remove the custom ad blocker rule(s) and the page will load as expected.