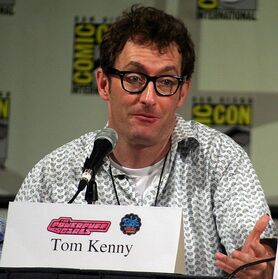 Thomas James "Tom" Kenny (born July 13, 1962) is an American actor, voice actor and comedian known for having perfomed the voice of SpongeBob Squarepants from Nickelodeon's cartoon of the same name since 1999. He is also known for voice the narrator in Cartoon Network's The Powerpuff Girls. He was born in Syracuse, New York. Tom Kenny does voice acting for:
President James Nixon McGarfield
Principal
Hall Monitors
Sheldon
Goof (Member of the Six-Gum Gang)
Ned the Guard
Hoagie Gilligan IV (Numbuh 2's grandson)
Narrator of Operation: N.A.U.G.H.T.Y.
Trivia
References