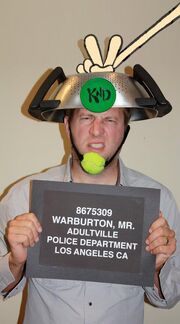 Thomas David "Tom" Warburton
, also known as
Mister Warburton
, (born July 23, 1974) is an American animator and the creator of
Codename: Kids Next Door
. He was born and raised in Philadelphia, Pennsylvania and has done work on various cartoons. His first show was the aborted
Kenny and the Chimp
, which was to feature a recurring team of characters that would evolve into the Kids Next Door.
It also featured the character Professor XXXL, who was featured in Diseasy Does It, the only episode ever produced. Codename: Kids Next Door aired its final episode on January 21, 2008. His aliases, Numbuh Eleventy Billion (a KND operative) and Nogoodnik (a villain) occasionally appears in Codename: Kids Next Door, according to a Q&A. As of now, he has written one children's book, called 1000 Times No.
External Links
Ad blocker interference detected!
Wikia is a free-to-use site that makes money from advertising. We have a modified experience for viewers using ad blockers

Wikia is not accessible if you've made further modifications. Remove the custom ad blocker rule(s) and the page will load as expected.